10 Best Answers For "Where Do You See Yourself In 5 Years?"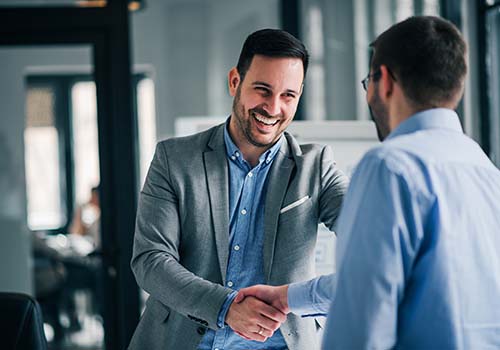 Your interview might be going smoothly until the hiring manager asks, "where do you see yourself in 5 years?" This question tends to put many interviewees off balance, as you might not know the best ways to answer it. For example, do you speak about your ambition, or do you tie your answer to the role?
These are some of the questions that come to your mind. If you're unprepared before the interview, you might not end up answering this question well. For many interviewers, this translates to mean you don't contemplate your career path enough. Others might even think you're unsure whether you would still be with the company.
When you have to answer this question in an interview, there are ways to make your answer practical, precise, and reasonable. This guide will provide you with some career advice and the best ways to answer this five-year plan question.
How To Answer "Where Do You See Yourself In 5 Years"
Employers are curious to know where you see yourself in the next five years because of what the data says. The US Bureau of Labor Statistics states that people rarely stay with a single employer for more than four years. Since employers consider the cost of hiring, they like to hire individuals who have long-term plans with the company.
Essentially, to answer the question, "Where do you see yourself in five years?" discuss the trajectory you envisage and how you expect to evolve. Below are some useful interview tips.
Envisage The Experience You Expect To Gain From The Job
When answering the "Where do you see yourself in five years" question, you should evaluate the role and the potential experience you'll gain. To do this, you'll need to read carefully about the role for which you're applying and how your resume might appear after spending five years. For example, after five years working in the same department, do you want to be in that company?
Consider the structures for promotions and possible skills you can learn while in the role. For instance, if you'll move from Associate I to Associate II within two years, you can envision where you'll likely be in five years. Having a better understanding will impact your answer quality and show your interviewers that you have read up about the role.
Consider Your Goals In Line With The Job Description
It also helps to evaluate your long-term career goals and see how they fit the job description. Whether a physical or phone interview, answering this question on your five-year plan requires understanding your goals and knowing how the role might strengthen them. For this purpose, you should consider the specifics of your dream job to fully understand what you have to do to maximize the role.
Your Interest Also Matters
You can always improve and grow in any profession. However, many people tend to use a particular role as a stepping stone for a bigger job position. For instance, you might intend to become a flight attendant, but first, you need to understand customer relations. This interest matters when answering job interview questions on where you see yourself in five years. 
Therefore, you should reflect on why you're shooting an application for a role and what you consider your long-term game plan. Reflecting on this will offer you the needed insight to prepare a detailed answer when answering the question, "Where do you see yourself in five years."
Example Answers Of What Not To Say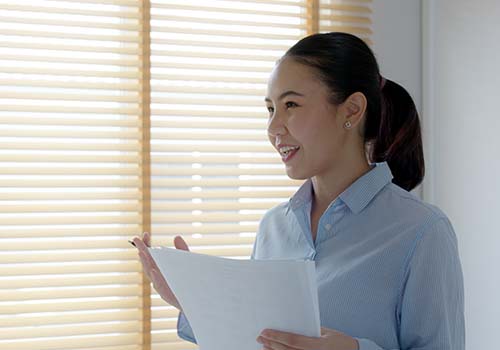 What you don't want to do during an interview is to get on the wrong side of your recruiters. To increase your chances of getting a job, you'd want to maintain a good and pleasing relationship all through. Answering the "where do you see yourself in five years" question in a funny manner might disrupt your interview flow.
Some people answer the question by saying they will be on the other side of the table in five years. This might sound intuitive, but it's something recruiters are not looking forward to hearing. Your answer needs to be practical to show that you have insights. Jokes concerning being on the other side aren't a practical answer.
You should also stay away from giving detailed answers on the promotion structures of the company. While you can mention that you expect career development over a set of years, moving from one level to another, you don't have to offer in-depth answers concerning this. Doing so might make you appear as though promotion is your only concern.
Furthermore, you'll want to avoid answers that border around going ahead to set up your business or returning to school. Employers want people who'll work for them and contribute value to their company for a long period. Conversations around setting up a business might make you appear as a competition. Therefore, you should steer clear of this answer. 
Finally, we will advise that you always prepare for this question. You don't want to find yourself saying lots of "Ummm" or any other form of fillers. This simply tells your recruiter that you're unprepared and have inadequate regard for the job position.
"Where Do You See Yourself In 5 Years" Sample Answers
The most significant tip in answering this question is to keep your answer a bit generic. Short-term career plans can change while you're in a role. Therefore, as much as it can be helpful to provide sufficient information indicating knowledge about the job opening, keep your answer generic. Here are a few example answers you should learn as a job seeker:
Answer 1
"My five-year plan is centered around becoming an industry thought leader who provides expert services across multiple projects. I intend to manage high-end projects that bridge significant gaps in the industry. I want to drive numerous ideas that fall within the company's larger goals to accomplish the mission statement."
Answer 2
"In the next five years, I intend to have progressed in the company, having worked on different valuable projects. I am also motivated to lead teams and initiate projects. In addition, I have experience in project management. Bringing my skills on board and scaling for more while in this role will help position me for my future goals."
Answer 3
"My career goal is to become a leading salesperson. I have garnered some experience in my previous role. Within the next five years, I look forward to significantly boosting my sales record and skills to become one of the top individuals in the industry. I applied for this job because it appears it will offer such growth opportunities that I can leverage to deliver value."
Answer 4
"I have thought about this question at different points in my career. In the next five years, I see myself leading sales projects with high numbers. I am preparing for this future by garnering relevant experience that positions me for more learning and growth opportunities. I look forward to maximizing the avenue this job position offers me to contribute my quota to the company."
Answer 5
"For most of my career, I've enjoyed being a team-lead and organizing people to execute projects. In the next five years, I hope to lead a department or a project. I consider leadership a core part of my career trajectory, and this job position appears like a great fit."
Answer 6
"In my last job, I developed core project management skills over two years. Within the next five to ten years, I look forward to taking on a senior project manager position to handle much bigger projects. My 2-year experience will propel me to maximize this job position within the next five years, and I believe this offers a significant boost to my career goal."
Answer 7
"This question has been on my mind for a while too, and I have had time to think about it. I started working towards my five-year plan last year. Over the past two years, I have worked as a marketing analyst, using data to drive sales. I want to lead bigger campaigns and manage high-end advertising projects in the next five years. I'll need a role with growth opportunities that afford me the avenue of bringing my ideas to life. This job position will offer me the needed support, and I was eager to get an interview."
Answer 8
"I am looking to branch into a different space over the next five years. I worked as a project manager in my past job but developed an interest in digital marketing along the line. My career goal is to become a large-scale digital marketer in charge of generating leads for a company. With your company's resources and structures, I believe I can achieve my goal and give back accordingly."
Answer 9
"I have a straightforward five-year plan. For the past three years, I've been a project manager, and in the next five years, I hope to do this at the highest level, taking up a managerial role in my department. I am applying for this job position because it offers opportunities to advance my project management skills and solve more complex problems."
Answer 10
"I am focused on roles that offer me substantial freedom and authority to pursue and execute valuable projects at this point in my career. This is driven by my desire to be a thought leader in the digital marketing industry within the next five to ten years. Therefore, I was eager to get interviewed for this job, which appears promising and aligns with my career goal."
Tips For Improving Your Chances Of Getting Hired
Applying for a job takes more than just your application or interview. However, there are some tips you can leverage to increase your chances if you want to get a job. This section shall cover some useful tips that can help you become a favorite candidate.
Research The Role
During a job search, when you come across an opening, the first thing to do is research the role beyond the job title. Often, job openings have specific requirements in which the employers are interested. You first have to determine whether you meet those requirements and whether the role aligns with your goal. The more qualified and suitable you are for a role, the better your chances.
Additionally, you should also research the company. Beyond common interview questions, understanding a company's policy and culture will impact the quality of your preparation and answers. Companies love candidates that invest in their application, interview, and the role they are applying for — demonstrating that you tick these boxes positions you well for the job.
Prepare To Ask Questions
While you'll mostly be the recipient of numerous questions, you should also prepare to ask the recruiters some insightful questions. This speaks to confidence, preparation, and curiosity. In addition, asking insightful questions suggests to the recruiters that you're passionate about the role and would love to know what it's all about. It also offers you an avenue to build a relationship with your recruiter.
Research Your Interviewers
In some cases, you'll have the opportunity to get to know your interviewers. If you do, research them beforehand and keep basic details about their names, areas of expertise, and other relevant things. In addition, you can find relevant information on their social media pages, such as LinkedIn.
Knowing these pieces of information can help you establish a relationship with them during your interview. For instance, you can respond to questions by saying, "thank you for that question, Samantha," and then proceed to provide your answer. Essentially, it's crucial to leverage all your chances because you might not get the next interview.
What To Expect After Your Interview
After completing an interview, the result can go either of two ways. The recruiter might reach out to notify you of a job offer or otherwise. However, in some cases, you just might not hear from the company at all. Although this is bad company culture, it happens with numerous companies.
Nevertheless, after your interview, it helps to ask your recruiter for the next steps. This offers you insight into what you might have to do if your application is successful. You should also consider sending a note of appreciation to the hiring manager. Although these tips are not the major determiners of whether you get the job or not, they are little gestures that ingrain your name in the recruiters' minds during the review process.
If your application is successful, it's fine to be excited. However, don't let your excitement end at mere celebrations. To maximize the role, especially for an entry-level position, start learning more about your potential deliverables, your department, and even team members. One of the crucial tips to performing excellently in a role is to prepare thoroughly before taking it up. Remember, new jobs come with new skills.
Therefore, once you've read up about the role and the people, you can conveniently acclimatize with the new environment from your first day. Generally, you should expect an introduction to the team, the company's operations, and information concerning offers, salaries, and other packages.
The Bottom Line
How well you perform in your interview largely impacts whether or not you get the job. A crucial question such as "where do you see yourself in five years?" can trip you off and suggest to your recruiters that you have no long-term plan. This is why you need a career coach before seeking your next job.
To avoid disappointing stories, you'll want to understand the best ways to answer this question, relevant samples you can learn from, tips to optimize your interview experience, and why the company should hire you.
Frequently Asked Questions
Why do hiring managers ask, "Where do you see yourself in 5 years?"
Hiring managers have the simple task of bringing talents into a company. However, for every hiring manager, it's crucial to attract people who can stay for a long period to build the company and strengthen the value chain. This requires some form of stability, especially when the company works with a solid structure. Therefore, hiring managers ask this question to know how well a candidate sees themselves in the company and whether they are genuine about their application. They also ask behavioral interview questions to understand your approach to tasks.
Additionally, hiring managers want to see some ambition. Ambitious people tend to drive growth since they are passionate about getting to the top and hitting certain milestones. As such, when reviewing your answer to this question, the hiring manager looks at how well you have structured your plans and whether they are practical. The practicality of your five or ten-year plan suggests that a lot of thought went into it.
Therefore, if you're applying for a role, you should prepare to answer the "where do you see yourself in five years" question. Remember, the question has no definitive answer. What matters is the practicality, thoughtfulness, and usefulness of your answer to the company.
Should I ask a hiring manager questions too?
Definitely! One of the unspoken rules of an interview is that you shouldn't leave without asking your hiring manager a question. Curiosity fueled by insightful questions is a great attribute for any candidate. As such, before your interview day, you must have prepared thoroughly insightful questions to ask your interviewer. These questions should be thought-provoking enough to get the hiring manager to speak for a while.
Do not ask questions that the hiring manager can answer with a "yes" or "no." This defeats the purpose of asking a question in such an instance. You're not precisely asking to simply know or be sure. Instead, you're asking to get the recruiter talking in a bid to register your presence and establish a relationship. As such, you must carefully reflect on the questions to ask.
Some of the questions you can ask border around the structure for promotion, the company's expansion plan within the next five years, company culture, and policy concerning employees, among others. Whichever question you have, ask with confidence and invest yourself in reacting to the manager's responses.
What should I wear to a job interview?
The simple rule is to "dress the part." Concerning most job interviews, this will require you to dress formally. For most corporate companies, simply wear a suit and ensure you look good. However, there are some instances where you don't have to suit up. Casual wear might be all you need. In cases like this, consider tailored jeans and smart slacks. Females can also wear knee-length skirts and a fitting blouse. For female shoes, consider wearing small heels or closed-toe shoes.
The importance of good dressing in job interviews cannot be overemphasized. Understand that appearance impacts the first impression. If your hiring manager sees you and finds you appealing, this can go a long way in how you're treated. Often, this treatment is subconscious. You just stand a higher chance of enjoying a great reception when you dress well. Therefore, play your cards right.